Fornicus, Lord of Bondage and Pain is one of the monsters in the glass elevator cube prison in The Facility. On the whiteboard, he is referred to as "Hell Lord" with Gary Sitterson betting on his release. He is played by Greg Zach.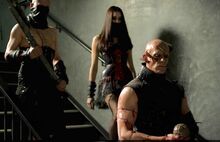 Fornicus is depicted as a humanoid figure with white, pale skin and pitch black eyes wearing black leather clothing, similar to a bondage outfit and has circular saw blades embedded in his head. He is also said to possess telekinetic powers and has the ability to summon lengths of chain to ensnare and rend his victims into pieces. 
In the basement, Curt nearly summons Fornicus by tampering with his spherical puzzle orb, similar to Lemarchand's box (a.k.a. "The Lament Configuration") from the Hellraiser franchise. Later, in the glass cubes, Dana sees Fornicus holding the same orb. It was at this point that she realizes that there was an element of choice in which monster would be summoned.
Fornicus is released during the second wave of the Purge, and can be seen shortly on the monitor after his release, about to torture two Facility workers chained together upside down. Fornicus, as shown behind the scenes and briefly in the film, is accompanied by two figures dressed in similar clothing, hinting that they are either his minions or partners. One is bald and has his face partly obscured by clothing. The other is a female with sinister eyes, and her mouth is similarly covered.
Fornicus was among the monsters portrayed in the Universal Orlando Attraction Halloween Horror Nights 23in 2013.
Fornicus is a clear reference to Pinhead from the Hellraiser franchise, though he has sawblades in his head instead of nails.
Community content is available under
CC-BY-SA
unless otherwise noted.