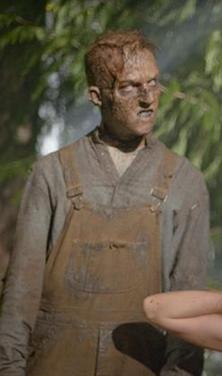 Judah Buckner, played by Matt Drake, is the youngest son of Father Buckner and Mother Buckner, the brother of Matthew and Patience Buckner, and a member of the Buckner Family they make up.
He attempts to murder Marty before being hacked to pieces by him with his own trowel. He inadvertently helps out Dana and Marty by grabbing the leg of the security guard who is sent to kill Marty, and is last seen when his dismembered arm wraps around the unconscious guard's face before his elevator cube door closes.
Judging by the way his sister speaks of him within her diary, one can say that she and Judah are very close and that both of them feared their older brother, Matthew. His sister Patience believed Matthew killed him for she had a dream where Judah came to her and told her Matthew had taken him to the Black Room, where the family kill their victims.
His weapon of choice is one half of a broken set of shears, however, Marty refers to it as a trowel. His weapon is also seen being used by Marty during the Purge.
---
Community content is available under
CC-BY-SA
unless otherwise noted.