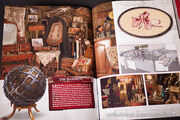 Various monster items are seen in the basement of The Cabin, all of them serving as summoning artifacts to the Monsters to be used in The Ritual. The one eventually used by the five college students visiting the Cabin was Patience Buckner's diary, which has a string of Latin phrases that resurrected The Buckner Family as zombies.
These items are known to or are highly speculated to summon the following Monsters. Note that most of these items are directly seen in the film's Cellar scene.
Each of the Monsters that does not have a confirmed summoning item, but can be assumed or guessed by fans. NOT all the Monsters are listed, but the ones listed below are examples of how simple an item can be to summon the associated monster.
Monster-summoning artifacts are common in fiction, including books such as the Necronomicon from H. P. Lovecraft's mythos. Many of them are found in basements, cellars, and other hidden compartments of houses. In one of the main influences from The Cabin in the Woods, The Evil Dead, not only the Deadites are brought after reading from a cursed book, but the Necronomicon Ex-Mortis\Naturom Demonto is found in the abandoned cabin's basement.
Community content is available under
CC-BY-SA
unless otherwise noted.